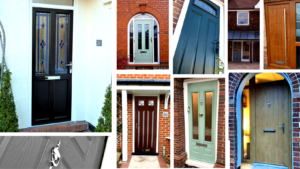 Composite doors are the ultimate combination of durability, style and security. Our range offers the best in heat insulation and secure locking systems, keeping your home warm and protected. With a variety of designs, colours and materials to choose from, our composite doors are the perfect addition to any property.
Our range of Edge Composite Door Designs
We offer comprehensive style options, with each door being completely weatherproof and featuring glazing styles to suit every type of home. The multipoint locking system provides the highest level of security, making it virtually impossible for intruders to gain access.
Unlike wooden doors, composite doors require very low maintenance and are easy to keep looking like new. With a solid core for added security and peace of mind, composite doors are also thermally advanced, meeting the latest regulations. They can even feature glass designs, offering privacy or artistic designs to give more character.
If you're looking for a bespoke design, we've got you covered. Our composite doors are completely customizable to meet your specific needs. Achieve the traditional look of a wooden door with the durability and security of composite. Choose from a broad variety of colours and styles to perfectly suit your property.
Why choose Composite Doors?
Durable – made from high quality, compressed materials
Low maintenance and trouble-free– you won't need to treat a composite door or varnish it, like a wooden door, the occasional wipe down and drop of oil on the hinges every now and then is pretty much all that is needed to keep your door functioning perfectly.
Solid core – for added security and peace of mind
Available for bespoke design – create your own!
Thermally advanced – meeting the project's needs and latest regulations.
Able to feature glass designs – with privacy glass and artistic designs to give more character.
Secure – composite doors offer better protection than any other material thanks to some incredible locking systems, which you can read more about below.
Stylish – composite doors are a wonderful choice as there's a broad variety of colours and styles to suit any property. Those who love the look of a wooden door will be pleased to know that you can achieve the traditional style with a composite door. It's sometimes hard to tell the difference between composite and wooden doors!