Fencing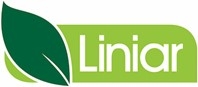 uPVC Garden Fencing Systems
Our innovative range of Liniar uPVC garden fencing systems allows you to transform your outdoor space, offering an attractive alternative to more traditional fencing products.
Made from lead-free window grade durable uPVC, Liniar's uPVC fencing is designed and manufactured at our Derbyshire factory, complete with ISO 9001 accreditation.
Why choose our uPVC fencing?
You can be sure of a top quality product with Liniar's unparalleled attention to design and engineering details.
Doesn't rot
Easily installed
No risk of splinters
Low maintenance – simply clean occasionally with warm soapy water.
The system is made from 84.75% recycled, 100% lead-free uPVC – better for the environment, you and your family.
Our Liniar fencing systems are manufactured in the UK, our carbon footprint is kept low.
Every element of a Liniar fence is fully and easily recyclable at the end of its life.
There are three different fencing finish options available, in a variety of different colours.
Our Classic Fencing range is offered in white, green and brown, Woodgrain Fencing is available in Golden Oak, Rosewood, Anthracite Grey and Black, while our Composite Fencing has three options – Sandstone, Chestnut Brown and Carbon Grey.